The Milestones of a Brand
Constancy Through Change
Cetetherm has known some name changes over the years, but what hasn't changed is our core commitment: energy-efficiency and sustainability that serves our customers over and over again - whether it's solutions for district heating systems, district cooling systems, tap water systems, or any other requirement.
Today, we're an established, proven brand, leading the market in innovative heating and cooling solutions that feature cutting-edge digitalisation, and intelligent monitoring and control. Here's the journey that got us there.
2018
2005
1998
1991
1955
1923

NIBE acquires on June 1st the complete Cetetherm product range from Alfa Laval. This means the comeback of the brand name and the company name Cetetherm in the HVAC market.

The Cetetherm product range is completely integrated into Alfa Laval and the brand name Cetetherm is replaced by Alfa Laval.
Cetetherm France is created when Alfa Laval acquires the French company Vicarb. The product offer is expanded with the French tap water systems of the following brands: Smart, Uranus and Vicarb.

After many organizational changes creation of the brand and company name Cetetherm with subsidiaries in Germany, Finland, Poland, Czech Republic, Estonia, Latvia and Lithuania.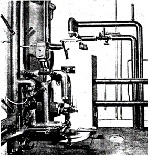 Establishment of CTC factory in Ronneby (south of Sweden) producing Copper – lined storage tanks for hot water, heat exchangers and laundry equipment.

It started all in 1923 in Sweden when the company CTC was founded.