Although we have changed hands over the years, we have always believed and focused on our values: energy-efficiency and sustainability to serve our customers over and over again.
2018
2005
1998
1991
1955
1923

NIBE acquires on June 1st the complete Cetetherm product range from Alfa Laval. This means the comeback of the brand name and the company name Cetetherm in the HVAC market.

The Cetetherm product range is completely integrated into Alfa Laval and the brand name Cetetherm is replaced by Alfa Laval.
Cetetherm France is created when Alfa Laval acquires the French company Vicarb. The product offer is expanded with the French tap water systems of the following brands: Smart, Uranus and Vicarb.

After many organizational changes creation of the brand and company name Cetetherm with subsidiaries in Germany, Finland, Poland, Czech Republic, Estonia, Latvia and Lithuania.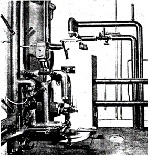 Establishment of CTC factory in Ronneby (south of Sweden) producing Copper – lined storage tanks for hot water, heat exchangers and laundry equipment.

It started all in 1923 in Sweden when the company CTC was founded.